Writers' Guidelines
We ask that the articles be informative and not self-promotional in nature. We reserve the right to edit as needed.
Recognizing that we are all volunteers, and busy people, we would like to request that your article be submitted in the following format and adhere to the guidelines, as that makes our task much easier.
Submit articles and photographs as attachments to an email to editor@puslinchpioneer.ca
Submit articles in Word, font size 10 and single spaced. If you cannot submit in Word, please contact technical@puslinchpioneer.ca and he will advise on best format.
The word count should be 350-500 words. If you submit a longer article, we may have to edit it down or not be able to use it.
Please do not do any fancy formatting.
When submitting photos for inclusion, please send us a jpg file and list who is in the photo.
All articles must be accompanied by the author's name and phone number. We will not publish the phone number but need it for follow up purposes.
We ask regular contributors to submit a small headshot and one line bio on who they are.
Some quick editorial tips
Numbers under ten are spelt in full
Please do not abbreviate months, write them in full
Names of publications and books are put in italics
When using dollar amounts, do not place a period after the figure.
We appreciate all submissions of interest to the residents of Puslinch. If you want to discuss the merits of an article, please contact either the editor (editor@puslinchpioneer.ca) or the chairperson (chairperson@puslinchpioneer.ca). We reserve the right to edit and/or reject any article before publishing.
Deadlines
Usually the 2nd Friday of the month. If the deadline date changes, we indicate the revised deadline in prior issue.
Prompt submission is recommended. If your article comes in after the deadline, we cannot guarantee that we will be able to use it.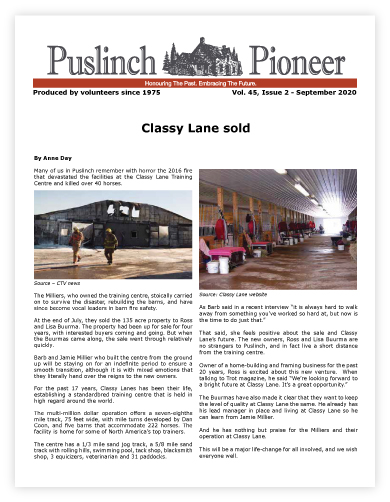 In this issue… Classy Lane sold, Mayor Seeley speaks out about tax inequities, New vet comes to Morriston, Fall fair plans, Heritage Matters: A COVID-19 Virtual Field Trip, And more.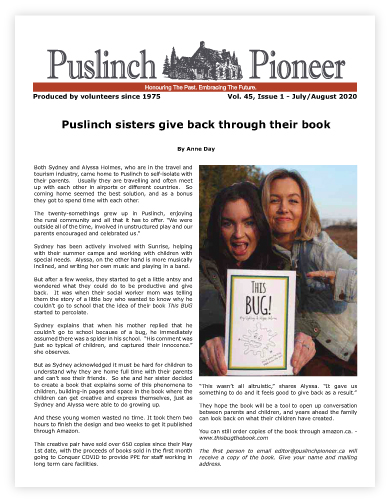 In this issue… Puslinch sisters give back through their book, Community rallies, Revenue inequalities, Better Internet for Puslinch, Young Puslinch actress wins big scholaship, and more.